Here at Lifestyle, we pride ourselves on providing the highest quality home improvement products to our customers, which is why we offer the most effective and secure locks for all of our doors. In this post, we'll be explaining what an anti-snap door lock is and why it is such an important security feature for homeowners in the East Midlands and beyond.
What is lock snapping?
To understand the importance and functionality of an anti-snap door lock, it's important to understand what lock snapping actually is. Lock snapping is a very common method used by burglars to break into a property that has a Euro Cylinder lock, which is the most commonly used locking system today.
Lock snapping requires next to no skill by a thief to snap the lock, making it an easy task for those looking to break and enter. The actual method of snapping a lock involves breaking the cylinder to then manipulate the lock to open.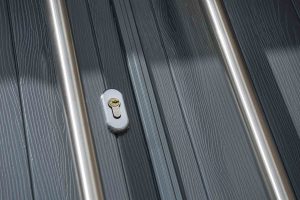 How does an anti snap door lock work?
Today's modern Euro Cylinders are manufactured with anti-snap security measures as standard to keep homes safe from would-be intruders.
Anti snap locks feature anti-snap lines on the cylinder locking system. If force is applied to either end of the cylinder, the intruder will break the lock at the anti-snap line and not at the centre of the cylinder, leaving the locking mechanism intact. This prevents the intruder from breaking the lock and entering the home.
How can I secure my doors?
Since more than seven out of ten breaks-in take place via the entrance door, it stands to reason that it should be exceptionally secure, and as one of the most used doors of the home, it should be able to withstand regular use. One of the most effective ways to secure your home is to replace your old front door with a market-leading Solidor composite door.
Old and outdated doors are nowhere near as secure as the modern doors of today. For example, old doors with Euro Cylinder locks will not feature anti snap technology. You could just replace the locks, but if your door is particularly old it's likely it is not that strong. Even with new locks, an intruder trying their luck could potentially damage the door another way and enter your home.
Upgrading to a Solidor composite door could be the ideal solution for homeowners wanting added security. It's reassuring to know that our composite doors are arguably the most secure on the market, featuring insurance and Police approved locking systems. Take a look at this video to really understand just how much a Solidor composite door can withstand!
Replace your door with a secure option from Lifestyle today
For more information about our ultra secure and stylish door replacements, take a look at our buying guide, or contact us for a no-obligation quote.
Related posts: