A sponsored post by George Barnsdale
George Barnsdale has announced the launch of its new bottom-hung bi-fold door range. Designed to overcome the constraints associated with hanging from timber beams and non standard openings, the product is set to open up a world of opportunities for architects, builders, self-builders and installers.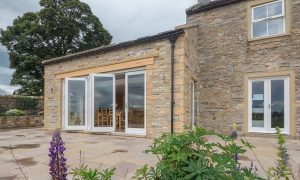 The growth in timber framed properties in recent years and the continuing demand for bi-fold patio doors for such projects has caused a few headaches for developers and builders. This is mainly due to the challenges of hanging heavy weights from timber beams which causes deflection, preventing the doors from opening properly. The new system developed by George Barnsdale for one of the country's leading oak frame manufacturers is designed to overcome this by transferring the weight to the floor with special bottom rolling mechanism instead of the traditional top roller mechanism.
Using the highest quality mechanism that incorporates guards to push away grit and articulated carriers to compensate for imperfect openings, the new bottom-hung bi-fold range from George Barnsdale is set to open up infinite architectural opportunities. Designed for inward and outward opening, double or triple glazing and ultra secure, the doorsets can be used for interior or exterior purposes. The discrete mechanism means the beauty of the timber doors is maintained whilst allowing more people to incorporate a bi-fold into their properties, despite any pre-existing imperfections or unusual architecture like glazing above. The doorset is also fully tested to BS6375 parts 1,2,3 and PAS24.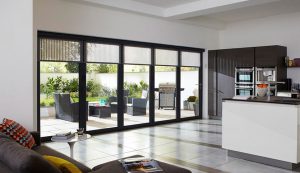 Commenting on the new addition to the George Barnsdale patio range, Hayden Darley, Technical Director said "We spend a great deal of time listening to our customers, working with them to develop solutions and the bottom hung bi-fold is a great example of this. We have our own on-site research and development centre that allows us to experiment with new ideas and products prior to them being third-party tested off-site. Innovation has always been part of our psyche, we are a long established 19th century company with 21st century ideas and technology."