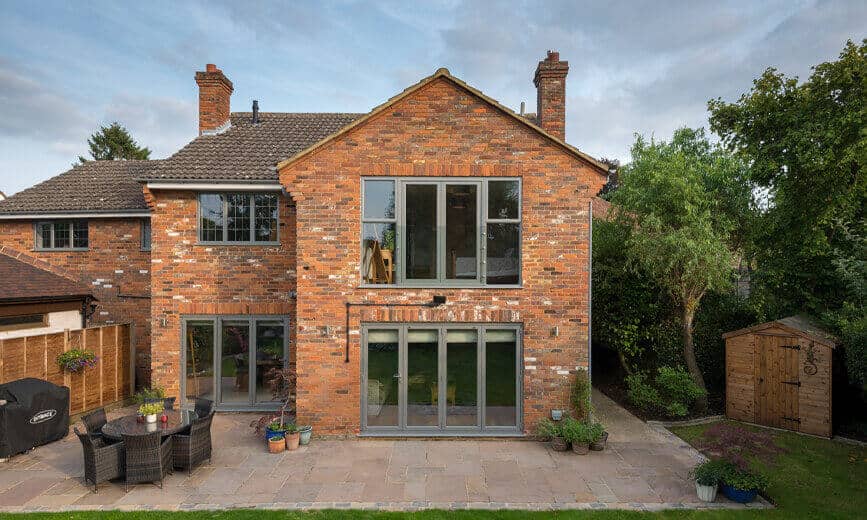 Corner bi-folds make a wonderful addition to suitable properties. Occupying a 90 degree aperture and allowing more light intake than standard bi-folding doors, they create the ultimate open space. However, there's some things you need to know, if you're considering having some installed.
Your house will need a survey
Corner bi-folds involve the removal of more than one wall or window, meaning the structural integrity of your home may be affected. Therefore, a structural engineer will need to perform a survey, to determine your property's suitability.
The survey will decide whether or not a support post is needed
The structural engineer's survey will help decide your next move. For some homes, a fixed support post will be required. Unfortunately, this will minorly obstruct views. However, not all properties will need one. Cantilevered roofs are enough for some homes and they allow for total viewing enjoyment of your new space.
They will greatly affect your current living space
Removing two walls or more will inevitably change how you use your property, much more so than with a standard bi-fold installation. Online forums have highlighted that placement of furniture may become more difficult. This is because corners often house sockets and are out of the way of doorways. Having an idea of how you're going to use the space will allow you to compensate for this.
Use aluminium frames for corner bi-folds
Thanks to its inherent strength, aluminium is most suited to support corner bi-folds. Aluminium is an unbelievably strong material. The structural integrity it provides to buildings is a reason why it's used on some of the world's tallest skyscrapers. Aluminium framing is also exceptionally thin, which maximises the amount of light coming into your home. This means it is ideal for creating that beautiful open space.
They're incredibly versatile
Depending on the size of the space, almost any configuration is available. Homeowners can have them with a varying number of doors on either side. Most corner doors are external bi-folds, however internal configurations are available too.
Corner bi-folds from Lifestyle Windows
Those interested in corner bi-folding doors from us at Lifestyle can benefit from the following features:
uPVC, aluminium or hardwood framing
Despite an open appearance, corner bi-folds are supplied with toughened glass, internal glazing and anti-lift systems, ensuring they're exceptionally secure.
With 19 colours available, we can provide variations suitable to any home.
Double glazing with an argon filled cavity, ensures for a solid thermal performance.
The ideal way to link the indoors and outdoors, corner bi-folding doors make a fantastic addition to suitable homes. If you think a set of corner bi-folds sounds right for your property, why not give us a call on 0800 783 6502? One of Lifestyle's devoted experts will be able to help with any questions you may have.