It's a stark fact that an overwhelming number of burglars gain entry through insecure entrance doors. Keeping your family safe should always come first, so whether you've just moved in or lived in your home for some time, it's time to ask yourself whether your current entry system is putting you at risk.
With this in mind, we'd like to introduce you to the ultimate door locking system technology from Ultion. Keeping homes safe and sound throughout the East Midlands, here are 5 reasons to consider upgrading to a door with Ultion locks.
1. A foolproof defence against low-level crime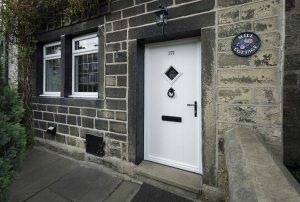 Most of us will be helping each other get through these unprecedented times. However, the third phase of the Government's response, telling the police to ignore "low-level crime", will now be on the radar of a select few looking to exploit the situation. But doors that feature Ultion locks are designed to eliminate the risk of home intrusion completely. Approved by the Police and achieving the highest Kitemark star rating, Ultion locks are also accredited to the Master Locksmith Association's high standard; Sold Secure Diamond.
2. Ultion Lock Down Mode
You may be tired of the term 'lockdown' by now, but Ultion's Lock Down Mode is sure to pique your interest! This intelligent locking system actually goes into 'Lock Down Mode', thanks to a hidden firing pin that secures the central cam. So, there's no need to worry about your locks being bypassed or forced.
3. Ultion Smart lock
You can unlock your door just by walking towards it, as long as you have your mobile phone to hand. You are able to set an activation radius, meaning that when you get within a certain distance of your door, it will unlock. The Auto-lock feature enables Ultion lock users to easily ensure their doors are locked. You can even send a digital key to someone if you are not going to be there to let them in.
4. 294,970 key combinations and 20-point drill protection
Thanks to an 11-pin cylinder, the Ultion lock features almost 3 times the pins of a normal lock. So, with 294,970 different key combinations, a sound night's sleep is guaranteed with an Ultion lock.
Lock drilling has become a popular way for burglars to gain entry to homes throughout Nottinghamshire, Derbyshire and Leicestershire, but Ultion's 20-point anti-drill rods, plugs and plates deter intruders further.
Protecting against lock bumping, picking, jamming and snapping, get a real feel for how the Ultion lock performs under attack by watching this test between a standard cylinder lock V's the Ultion Lock:
5. £1,000 guarantee
For the ultimate peace of mind, each Ultion lock is guaranteed against lock snapping. So, in the very unlikely event that your Ultion lock is bypassed, Ultion have put their money where their mouth is!
Affordable, insulating, secure entrance doors in the East Midlands
At Lifestyle Windows, we take our duty to keep you safe and happy incredibly seriously, which is why our Origin aluminium doors, Solidor composite doors and heritage single and French doors can be secured further with the innovative Ultion locking system. Why not try out our fantastic composite door builder – no contact necessary! Or if you'd like to chat with our team about any of our products or services, give us a call on 0800 783 6502 or contact us online.