Industry awards and accreditations are an excellent way to showcase professional excellency. As part of their ongoing marketing strategy, conservatory roof specialists Ultraframe are running an 'installation of the month' competition. All Ultraframe approved installers are eligible for the award which recognises high quality workmanship and ambitious project designs.
Three outstanding home improvement projects
At Lifestyle Windows, we strive for excellence in everything we do. We were therefore delighted when we were awarded the Ultraframe installer of the month award not once, not twice, but for three separate installation projects. This is high praise from a respected company whose luxury products have helped thousands of homeowners to enjoy a better standard of living.
If you're thinking of extending your home or upgrading an existing conservatory or orangery, have a look at our three award winning projects to gain inspiration for your own home improvement plans.
Stylish fully glazed Ultrasky lantern roof orangery with super insulated columns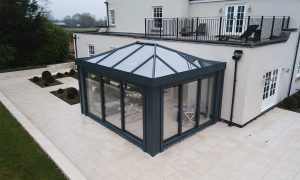 This new-build orangery installation in Loughborough completely transformed the Flemming's living environment. Using the Ultrasky lantern roof supported by super insulated loggia columns, we were able to create a bright and airy extended living space to use all year round. Triple track sliding aluminium patio doors were chosen as the entrance and have helped to stylishly link the garden with the interior living area.
Fully tiled Ultraroof conservatory upgrade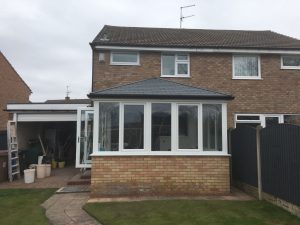 For this conservatory refurbishment project in Ilkeston, the Holmes family wanted a more permanent feel to their existing conservatory. They wanted to transform their tired old conservatory which was too hot in the summer and too cold in the winter, into a year round usable family space. To do this, we installed new windows and doors from the Deceuninck Heritage Collection fitted with energy efficient glazing. We also installed a new Ultraframe tiled and insulated UltraROOF with feature glazing.
Stunning Victorian conservatory LivinROOF remodelling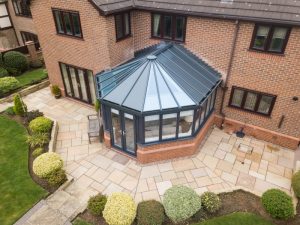 For the Woodward family in Smalley, Derbyshire, we completely renovated their existing Victorian style conservatory. Heritage uPVC windows and French doors have helped to boost thermal efficiency while the stylish Anthracite Grey LivinROOF creates a cosy ambience while still bringing in enough natural light through the feature glazing panels to ensure a bright and open living area.
If you'd like to find out more about how Lifestyle Windows can help to transform your living environment and enhance your standard of living, get in touch today. Give us a call on 0800 783 6502 or send us a message online.