A conservatory is an extremely popular and cost-effective way for homeowners to extend their homes; in 2013 18% of homes in the UK had a conservatory, which is around 4 million conservatories! We can only assume this percentage has risen since, as the demand for home improvements has soared as a result of the pandemic. Yet, conservatories can have a reputation of being too hot or too cold, depending on the time of year. This may be true for older, worn conservatories, but thanks to innovative construction materials, no longer are conservatories uncomfortable, unusable, or impractical. Modern materials and building standards mean conservatories can be used all year round and are as comfy and cosy as the rest of the house.
Before you get started on adding a new conservatory or refurbishing your old one, you'll want to know how much this kind of home improvement could cost, so we've broken down some typical prices for frames, roofs, and installation to help guide your decisions.
The stages of a conservatory project
1. Planning costs
 Most conservatories are subject to permitted development rights, which means planning permission will not be required, as long as the conservatory meets certain requirements.
However, if you live in a conservation area, have a listed property, or your improvement plans include a partially large conservatory that is close to your property boundaries, then you may need to apply for planning permission. A planning application costs including architects working drawings circa £475 in England.
If you have any concerns, then we are more than happy to talk you through the process before going ahead.
2. Cost of materials
 Two significant factors to consider are the size of the conservatory and the material, as they will have the biggest impact on the price. With 3 durable materials to choose from, we have defined a rough guide below, so you can pick the best material based on your budget.
uPVC conservatory costs
The most common and cost-effective conservatory material option is uPVC. Modern uPVC is extremely durable, weather-resistant, and comes in a variety of RAL colours. A small, classic conservatory in a rectangular form can cost around £15K to £16K. For larger, more complicated designs, such as L shape, can cost £25K-£40K.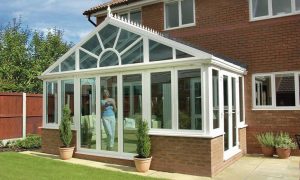 Aluminium conservatory costs
Another quality conservatory material option is aluminium. Long-lasting, with incredible thermal properties, aluminium conservatories can cost £20K to £40K, depending on the size and style. Available in modern and traditional colours, aluminium conservatories are extremely versatile when it comes to bespoke finishes.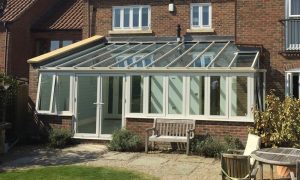 Timber conservatory costs
Another popular conservatory material choice, timber is usually the most luxurious choice. Typically, we would anticipate that any timber-framed conservatory would cost around a third more than the same design using uPVC, totalling between £30K to £50K, again, depending on size.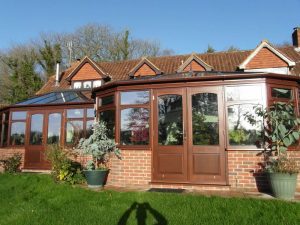 3. Cost of Conservatory Roof
 Whether you are looking for a conservatory roof replacement or designing a conservatory from scratch, we have 3 stylish roof options:
Tiled roof costs
A tiled conservatory roof can transform the appearance of your conservaotry, it will imitate more of a brick extension, rather than a traditional glazed structure. However, solid conservatory roofs will usually cost more. The average price is between £12K to £14K depending on the size of the roof and any additional features, such as an opening glazed skylight or integrated spotlights.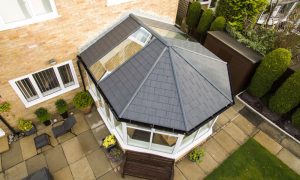 Solid roof costs 
Incredibly strong, and the lightest solid roof available on the market, the LivinROOF can be built in virtually any shape or size. With a selection of integrated lighting choices and the option of a roof lantern, the average price of a solid roof is between £12K to £14K. Again, subject to optional extras and size.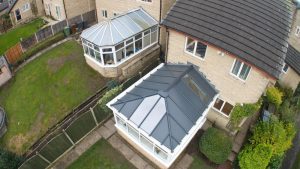 Glass roof costs 
A glass roof is perfect for homeowners that want the look of a classic conservatory. Our gorgeous glass roofs offer all the 21st-century benefits you need to ensure your conservatory is a space you can use all year round. The most cost-effective option, the typical price of a glass roof ranges from £6K-£9K, depending on the glazing used, e.g. double glazed, low-E glass, self-cleaning.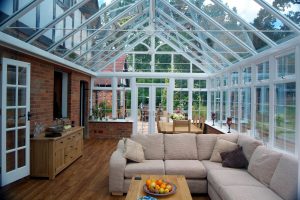 4. Installation costs
New conservatory 
There are elements of the installation that can have a considerable influence on the pricing too. For instance, does the ground require any work? Is there a patio that will need to be removed? Another important factor is whether your conservatory will have a dwarf wall or not. A dwarf wall is a small wall that acts as a solid base for the glazing panels to rest on. Usually made from brick, this will have an impact on the time it takes to install the conservatory and the cost to build. A full conservatory installation can cost between £15K-£30K.
Conservatory replacement
Replacing parts of your conservatory that are aged is cheaper than building an entirely new conservatory from scratch. The structure is already in place, the ground is less likely to need any work and the installation time will be a lot quicker. The price will typically depend on what you are upgrading, whether that is the frames, glazing, or roof. However, the average installation price for a conservatory refurbishment can vary from £12K-£20K.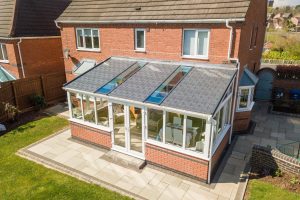 How much does a conservatory cost?
As you can see, there are numerous factors to consider when budgeting for a conservatory, so there is no singular price, and each quote is bespoke to the individual. However, we hope this information has given you a basic understanding of the essential factors that will affect modern conservatory prices.
For more information about our conservatories, take a look at our buying guide or contact us for a no-obligation quote.