French doors are highly sought after by homeowners who love their elegant styling, large portions of glazing and ability to ventilate homes. Sadly, however, they have found themselves targeted by burglars. Don't fret just yet, though, because there are ways you can secure them, as outlined in this blog.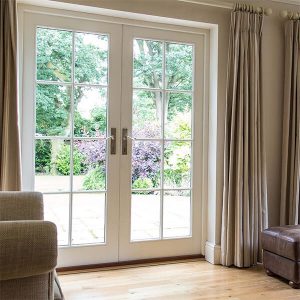 1) Using a reputable installer
This should be your first point of call for ensuring security. A poor installation is likely to result in French doors which are inadequate in a number of areas, security being one of them.
2) Laminated or toughened glass
The glass area on French doors is a large security risk. Usually, burglars tend to break one of the glass panels, creating enough space for them to put a hand inside and unlock the doors. Making sure toughened glass is fitted will make breaking any glass panels significantly more difficult. Lifestyle Windows fits toughened glass in our French doors as standard.
3) Cylinder locks
A common method of entry is via a technique known as lock snapping. This is where the cylinder is broken before the lock is manipulated to open. This problem is quite common with doors that have been fitted with inadequate euro cylinder locks. Ensuring anti-snap lock cylinders have been fitted is a way of preventing yourself from falling victim to this method of entry.
4) Security hinges
Hinges that are not properly secured to the frame are able to be removed. However, if security hinges are fitted, removing them will be far more difficult. If they haven't been fitted, you can fit your hinges with screws that are at least three inches long.
5) Multi-point locking system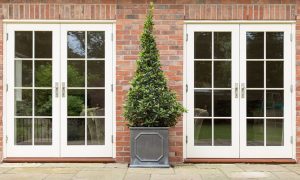 Making sure multi-point locks have been fitted is an important method for increasing security. Without them, the doors aren't secured at multiple points around the frame and can easily be manipulated open with enough force. We ensure to fit multi-point locking systems on all of our French doors, so they're not susceptible to this issue.
6) Securing French doors which are already installed
If you already have a set of French doors installed, you can help secure them from burglars in the following ways:
Find out which hardware is in use, e.g. lock cylinder, hinges, etc. and replace with higher security variants. West Yorkshire Police recommends lock cylinders that have either achieved a 3 star rating under TS 007 and/or the Sold Secure Diamond Standard (SS312). Some cylinders have achieved both.
Fit Patlocks Instant French Door and Conservatory Security Lock. This may be beneficial in deterring potential intruders.
Install an alarmed security system of some sort. A vibration-sensitive alarm is easy to fit to glass panels on a French door and will alert you to attempts of forced entry.
Enhance the back of your property with secure French doors from Lifestyle Windows
Lifestyle Windows is a highly reputed installer of French doors; we supply them in either uPVC, aluminium or timber and use only the latest security hardware. If you'd like a set for your home, get in touch today on 0800 783 6502.