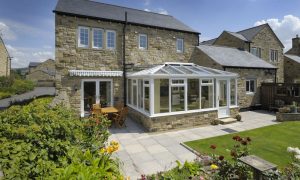 Like other new extensions, conservatories must have foundations in place. Foundations are necessary for transmitting the building's weight safely to the ground. Without adequate foundations, the structural integrity of a conservatory is severely affected. There is no minimum depth for conservatory foundations, however their depth and the type of foundation tends to vary as a result of numerous factors.
Nearby trees
Trees affect foundations by drawing moisture away from the soil. Taking moisture away from the soil causes it to shrink, which subsequently affects the strength of the foundations. The size and type of the tree will affect how much moisture is removed from the ground.
Suitability of the soil
Different soils are able to withstand different weights, plus different soils are affected by environmental factors more than others. For instance:
Chalk
Chalk drains water away well, meaning nearby trees affect it's quality only marginally.
Clay
Clay shrinks when drying and retains a lot of water. Nearby trees can cause significant shrinkage in clay, resulting in structural problems for a conservatory. Typically, changes to clay mainly occur up to a depth of about 0.75m, therefore foundations should be built deeper to compensate.
Drains
If a drain or sewer is covered by the downward footprint of a conservatory's foundations, there is a chance it could crack. Therefore, foundations should be dug at least the same depth as the bottom of the deepest part of the drain or sewer.

Undisturbed ground
Ground which hasn't been built on must be found before foundations are laid, which usually takes a dig of about 1m. Although, this figure tends to vary in areas where drains have been laid.
Differences between uPVC, timber and aluminium conservatories
As there are differences in weight between aluminium, timber and uPVC conservatories of the same size, the depth of their foundations will vary accordingly.
Types of conservatory foundation
These are some common types of conservatory foundations. Which type is used will depend upon the aforementioned factors.
Deep strip
The most common type of conservatory foundations, the width varies depending on the type of soil in use. Generally, the minimum width is 450mm and the minimum depth of concrete should be 225mm.
Trench fill
This method uses more concrete than deep strip, however labour times are reduced. The amount of concrete used is more than 500mm in depth.
Piled
This method is ideal for use when considerable depth is required to find undisturbed ground. Piles are dug into the ground to support a reinforced beam that spans from pile to pile, supporting the conservatory structure.
Raft
This can be a good alternative to trench fill and deep strip, if neither can be used. Raft foundations are characterised by the use of reinforced concrete slabs placed underneath the structure to support it.
Are you considering a conservatory for your property? Get in touch with Lifestyle Windows today by phoning 0800 783 6502 or send us an online message. Lifestyle installs high quality conservatories constructed from uPVC, aluminium and timber.